Wednesday, 30 May 2007
Accessories Watch: White Bags


Alright, so white isn't the most practical colour, but once again one of the colours of the season. White bags appeared all over the catwalk in a wide range of styles. The Marc by Marc Jacobs bag is a slouchy, casual style in an off-white tone; I particularly like the detailing. The Stella McCartney bag is probably my favourite, perfect for the sport-chic trend. There were loads of white bags in the Valentino collection, including celebrities' favourite oversized styles. Oh, and I couldn't resist putting the 'Geek' tote bag on. Emily has fallen in love.
---
Saturday, 26 May 2007
Glasses are Cool?


After reading this
post
at
Kingdom of Style
, I was intrigued. As a glasses wearer myself, I hate them and wear contact lenses as much as possible. Always seen as for the stereotypical geeks or recently, our favourite Ugly Betty (double bill last night :]). But Queen Michelle at Kingdom of Style confessed that she wore 'fake' prescription glasses, ones with a thick rim. Now, she looks very cool wearing them, but I couldn't imagine myself ever wearing them and pulling them off.
She also mentioned the fact that people in clubs are wearing them aswell. I checked this out, and found loads of pictures with people wearing thick-rimmed NHS style glasses. Is this just the beginning of a new trend?
---
Friday, 18 May 2007
The Weather is Inspiring...well kinda.


If you're living in the UK, then you'll have been lucky to not have had the gloomy grey skies above you this week. It seems the April showers have been transferred into 'May showers' this year.
Apart from grey weather, I love the colour grey, as it's a key staple in my wardrobe.
Susie Bubble has her white shirts
, I have my grey hoodies. For the days when you simply need something to put over your head, to be comfortable and warm in, the grey hoody is perfection. I fell in love with both of the above.
Above, left to right:
Fluro Heart Oversized Hoody - £25 from Topshop
Golden Heart Printed Hoodie - £60 from Urban Outfitter


---


However, when I woke up this morning, the sun was streaming through the windows and everyone was smiling. We all know from our playgroup days that sun + rain = RAINBOW. And rainbows seem to be appearing more than just in the skies recently...

Above, left to right:
Rainbow Pendant Necklace - £6 from ASOS.com
Rainbow Star Necklace - £6 from Topshop
Rainbow Necklace - £8 from Miss Selfridge



---

Accessories Watch: Fruity Tooty


So it all began with the strawberry, and has now cascaded into fruits of all kinds. They have a few strawberry necklaces at Urban Outfitters, although the Kenneth Jay Lane one is extremely expensive at £80. However, the other versions are much cheaper and there are many flying around the high street at the moment.
Other fruits that are popular include apples, pears and cherries. My personal favourite is the pineapple, such an interesting shape, and so so yummy to eat (don't worry, i know they're not edible). So go ahead, get some fruity tooty!
Top, from left to right:
Strawberry Necklace - £80 from
Kenneth Jay Lane @
Urban Outfitters
Apple Pendant - £8 from Miss Selfridge
Pear Pendant Necklace - £6 from ASOS.com

Bottom, from left to right:
Cute Cherry Necklace - £8 from Miss Selfridge
Pineapple Pendant Necklace - £8 from ASOS.com

Mirror Plastic Apple Necklace - £6 from Topshop



---
Thursday, 17 May 2007
It's All About...Foho


We all remember the boho trend, mainly started by Sienna Miller. Hands up, who owns the gypsy skirt or the coin belt? Or even both? Well anyway, according to the Daily Telegraph, "now Boho is back, albeit in a new incarnation" with a folk twist.
The definition from the
Daily Telegraph
:
'Foho' is about a more understated, eclectic mix, fusing classic Boho elements - Seventies silhouettes, crochet trims and trippy hippie prints - with more subtle folk pieces, such as washed-out denim and traditional embroideries.
This look is perfect for the festival season, and fits right in with the printed tunics we've seen from the likes of Mina, Laura Lees and Darimeya (all available from asos.com). Mischa Barton seems to be the textbook example of this look, with her fringed jacket, tunics, denim shorts and boots. It has also been supported celebrities such as Kirsten Dunst and Lindsay Lohan. A great summer look, let's hope that we don't dig this trend into its grave.
So it seems that boho is no longer, it's 'foho' darling.
[source]

---
Saturday, 12 May 2007
Looking At....The Maxi Dress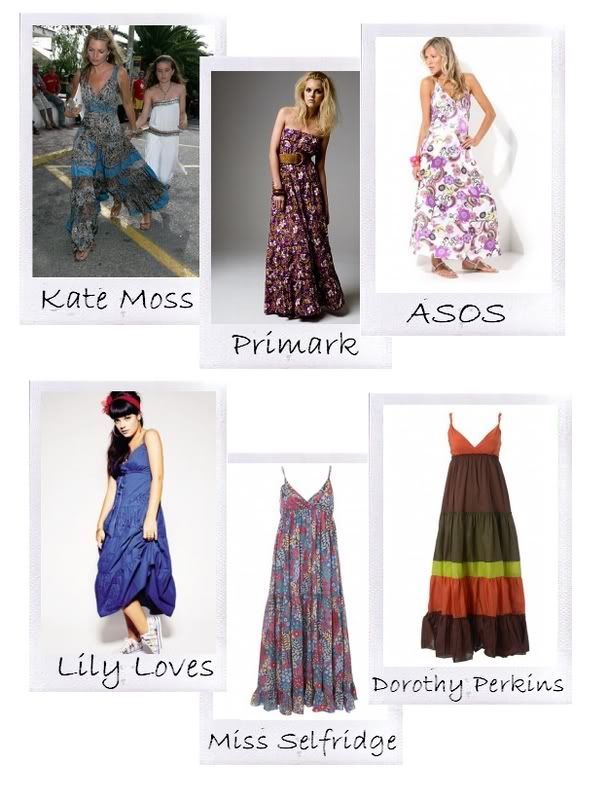 We all know about the mini dress this season, but right at the opposite end of the scale there is the maxi dress. Seen on the likes of Kate Moss, the maxi dress has an air of summer about it. It is the perfect dress for the festival season. Team it up with a pair flip flops and some wooden jewellery, and you're ready to go.

The Primark dress is gorgeous, and an absolute bargain for only £10. ASOS have a few maxi dresses, although a blue one in the style of Kate Moss quickly sold out. Lily Allen's collection for New Look also includes a maxi dress, in the form of the 'Graffiti Sundress', on which are some lyrics to her song LDN. Apparently, it's her favourite piece in the collection. I love the pattern of the Miss Selfridge festival maxi dress, and block colours are big this season, so the Dorothy Perkins dress is a great piece for your summer wardrobe.

Top, from left to right:
Kate Moss, wearing a maxi dress
Floral Maxi Dress - £10 from Primark
Rainbow Print Maxi Dress - £45 from ASOS.com

Bottom, from left to right:
Graffiti Sundress - £22 from Lily Loves @ New Look
Blue Festival Maxi Dress - £45 from Miss Selfridge
Colour Block Maxi Dress - £30 from Dorothy Perkins



---
Friday, 11 May 2007
Everyone's Talking About...Logo Tees


Logo tees are a big hit at the moment. What probably sparked this recent trend

was the House of Holland T-Shirts, with rhymes such as "Get yer freak on Giles Deacon". However, it isn't a new thing with Katharine Hamnett wearing t-shirts with slogans such as "58% Don't Want Pershing". Katharine Hamnett now does t-shirts with slogans such as "Bring Back God" and "Choose Life" on them.
Celebrities have been wearing logo tees aswell. Mary-Kate Olsen has been supporting a 1980s "Frankie Says Relax" tee, whilst Mischa Barton was seen wearing a "Drop Knowledge, Not Bombs" t-shirt.
Over the last few months, Topshop have also had their fair share of slogan tees; my friend got one with "Blow Bubbles, Not Bombs". The new ones at Topshop include, "I Started This Trend", which I actually quite like with a bit of neon. ASOS have also jumped on the bandwagon, with their own slogan tees.
A couple of other websites I discovered were teeandtoast.com and djtees.com, a great range of t-shirts – many of which I would love to have in my wardrobe!
---
Friday, 4 May 2007
Topshop Breast Cancer Shopper Bag


Shopping with a conscience seems to be popular at the moment. On the
Topshop
website it says: "This is not a plastic bag, this is a cotton shopper..." That made me chuckle - even Topshop have acknowledged the
£5 Anya Hindmarch tote.
..and are even making a joke about it.
Anyway, back to the point. The profits of the Topshop Breast Cancer Shopper Bag are going to go to the charity Fashion Targets Breast Cancer (Breakthrough Breast Cancer). A great cause, a great way to spend that £8.
---

Girl in the Spotlight: Kate Moss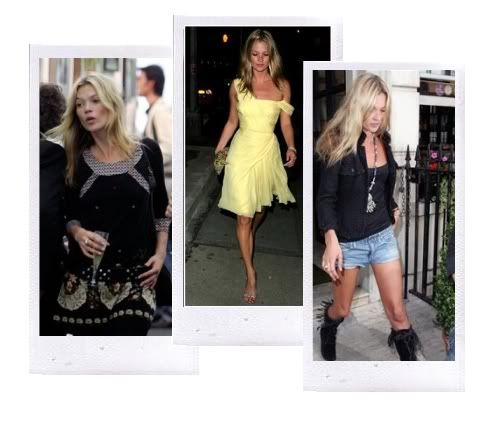 You can't have missed all the hype over the Kate Moss at Topshop collection. From what I've heard, it was quite a civilised affair, especially compared to the Primark opening on Oxford Street last month. But then we ask ourselves, why are so many of us willing to queue up, and in some cases bidding triple the retail price, to get a bit of Kate Moss?

The general opinion is that the actual clothing itself isn't anything particularly special and some a copy of pieces Kate Moss has actually been seen in. I like a few of the pieces, in particular the waistcoat and shorts but would probably struggle to pull them off. But it's not really about the clothes is it? It's the thrill of the 'Kate Moss' brand.

The girl from Croydon was first spotted at the age of 14 at the JFK Airport in New York. Since then she has become an iconic figure. Even after the "cocaine scandal", you cannot flick through a magazine without seeing Kate in a variety of advertising campaigns. Any magazine with Kate Moss on the cover is sure to sell well. She seems to pull together outfits effortlessly and has the rocker Peter Doherty has her boyfriend. Kate has become a style icon, that many women look up to. In my opinion, we've all been stamped with Kate Moss.




oh and if you want more details about the launch of her Topshop collection, Catwalk Queen is the place to go. excellent coverage, i have to say.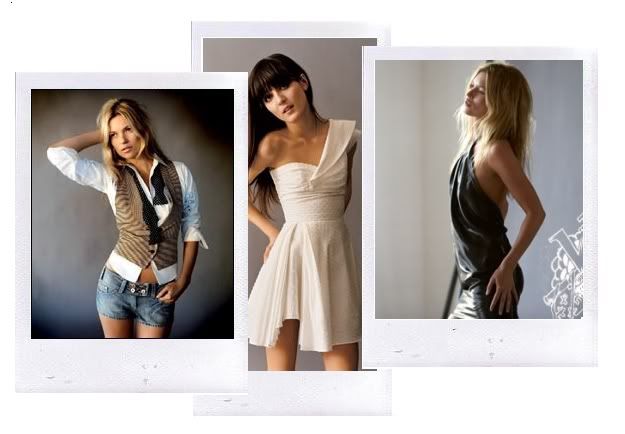 ---